About Melin Music Studio – Private Violin and Piano Lessons in Poulsbo, Kitsap County WA
If you are new to my studio, welcome to lessons! I hope you will enjoy getting to know your instrument and making beautiful music with it.  Please read through this page as it contains my studio policies and expectations. You'll especially want to read The Lesson Environment, Compensation and Practicing.
If you are browsing for a violin or piano teacher, this page should answer most of your initial questions. Please call me — 360-394-2086 — if you'd like to talk further.
Teaching Focus
No teacher is the right match for every type of student. My teaching is geared towards students who want to make measurable progress through focused study, effective practice outside of lessons and high expectations of themselves. Another approach to music teaching could be called "recreational music lessons" for people who want to learn the rudiments of an instrument but not strive for proficiency above an intermediate level. If a student appears to have stopped making progress (unable or uninterested to advance technically and musically), I will probably refer them to a different teacher whose approach is a better match to their learning objectives. Also see Progress Expectations, below.
The same may be true of students who are not interested in progressing through graded classical repertoire in the higher levels. I do not teach "alternative styles" (pop, fiddle, jazz etc.) above an introductory to intermediate level (Level 5 of my graded progression). Classical violin repertoire requires a wider variety of technical skills than most alternative-style music. I want to reserve my teaching time for students who seek to become proficient at a high technical level, to prepare for solo classical repertoire, chamber music or orchestral playing as a college student or adult.
Methods – Violin
Ages 8 and up: I use standard classical repertoire, method books, scales and etude collections with my students, depending on their age and skill level. Typically I use All For Strings (with workbook), The Doflein Method or Spotlight on Strings for beginners, supplementing with the fun Fiddle Time series for younger kids and Suzuki Book 1. I progress through the Suzuki graded pieces for most students up through about book 5 before branching off into more advanced, graded repertoire. Technique, scales and etude books by Applebaum, Anderson, Barber, Fischer, Flesch, Kreutzer, Trott, Whistler, and Wohlfahrt form the core of my technical curricula.
If students have an interest in non-classical musical styles (fiddle, pop/contemporary, improvisation etc.), I have been trained in teaching the Mark O'Connor Violin Method which draws on the 400-year-old history and traditions of America's musical melting pot. This method provides an excellent foundation for all types of music for the violin. I do expect all students to play more classical selections by the time they reach Level 5 and above of my graded repertoire system.
Much of the music I use is available at Ted Brown Music in Silverdale. Music can also be ordered online; see my Bookstore page.  Sheetmusicplus.com is a comprehensive, inexpensive supplier.
For Young Beginners:  Early mastery of music reading by my students is an important goal to me. Although I use the Suzuki violin books (among others), I do not teach the traditional Suzuki method of learning-by-ear at first. Some students taught this way become so good at playing by ear that they find it difficult to learn to read music later. Instead, I have developed a unique curriculum with color-coded music notation and have taught preschoolers to read music with this method. Most 4- to 7-year-olds generally know their primary colors, numbers at least up to 5, and can probably recite the alphabet. Colors, numbers and letters are where these lessons begin, and building the 5-line music staff is where they lead. Most students are ready for standard music notation method books after just 12 to 16 weeks of lessons! Find out more here.
Methods – Piano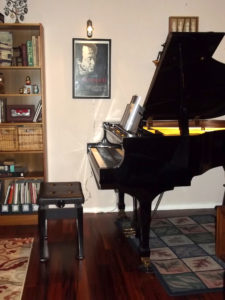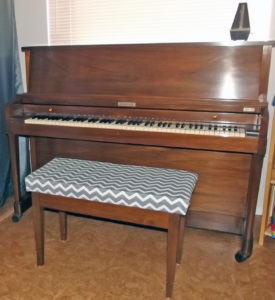 The studio pianos ~ a Baldwin upright piano for regular lessons, and a 5-foot baby grand with adjustable bench for performance prep
While piano is not my primary instrument, I can start beginners and take them to a Book 3 or 4 of most method series (1-3 years of study for most students). Beyond that, I can provide recommendations to numerous upper-level piano teachers through the Kitsap Music Teachers Association. I usually use the Faber Piano Adventures series, which has editions for different ages including adults. I have other teaching materials available too, so I can tailor the selection to the student's age and learning style. Music-reading, accurate playing and musical expression are important goals for all students, even the youngest.
For very young students (ages 4-5) who might want to learn to play the violin but for whom the required fine-motor skills are a challenge, piano is a perfect instrument on which to start. I can also provide dual-instrument lessons to students who want to become proficient on both.
Required Accessories
Violinists: Please purchase a Kun- or Everest-style shoulder rest for the violin; it greatly aids the student's ability to hold the violin properly. These are available for about $20 and can be purchased in local music stores or online. Also required for home practice: A music stand and something to tune the violin strings to (a piano or keyboard, accurate pitch pipe, or electronic tuner). Each student should have a 1″ non-flexible 3-ring binder to hold assignment sheets and supplementary materials. Bring to every lesson!
Also required for all students after the very initial stages: a metronome.
The Lesson Environment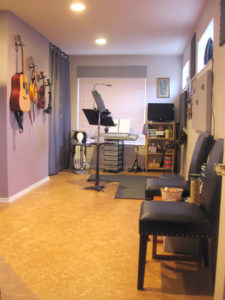 The studio before the Baldwin piano arrived.
I give lessons from my home, in a dedicated studio room with a separate exterior entrance. Parents, caregivers and quiet siblings are always welcome to observe lessons, but no more than 2 guests can be accommodated.
Please respect my home environment and students' uninterrupted lesson times by~
1) Entering quietly if another lesson is in progress;
2) Removing your shoes if wet, dirty or gritty (slippers are available!);
3) Confining your access to my studio area and main floor restroom;
4) Bringing activities to quietly occupy any younger siblings who may need to be present during the lesson. I have some picture books available;
5) Picking up your student promptly after their lesson (if you drop them off).
During lessons:
1) Play when you are asked to play and don't play when you are asked to stop or while your teacher is talking.
2) Actively listen to and absorb the teaching points given verbally. Your teacher cannot write down every teaching point verbatim in your lesson notes — you are expected to retain a certain amount based on the context of your music assignment.
3) Bring all lesson materials to every lesson.
4) Engage with your teacher during lessons — ask questions, demonstrate what you're having problems with. Let your teacher know if you don't understand an explanation or assignment.
5) Hellos, goodbyes, pleases and thank-yous are always appreciated!
Teacher-Student Contact: Learning to play an instrument is a physical activity and may occasionally require physical contact between teacher and student for coaching purposes in learning how to hold violin and bow, placement of fingers on fingerboard and keyboard, release of counterproductive tension etc. Physical touch is limited to arms, hands, fingers and sometimes shoulders. If students or parents have any concerns about the use of physical touch at lessons, please discuss with your teacher.
Practice Guidelines
Weekly lessons are times to learn something new, not practice what was assigned the previous week. Forming a regular habit of focused individual practice is key to progress. Students ages 6-8 are encouraged to practice at least 15 minutes per day, 5-6 days a week. Students in this age group will need parental assistance when they practice to follow the instructions in their notebook and maintain correct physical form and (violin) intonation; therefore parents of young beginning students should attend their lessons. (Any exceptions will be made on a case by case basis.) It is better for young students to practice less with more supervision than to practice a lot with none.
Older students should practice at least 30 minutes a day; by age 12 or 13 if rapid progress is desired then 45 minutes to an hour, minimum, is recommended. Advanced students wanting to continue to the highest levels of repertoire should set their sights on 2 hours a day. (For scientific proof of the importance of practice quantity, please read "10,000 Hours" on my blog.)  Practice charts and reward incentives are provided for younger students up to the point that they continue to motivate diligent practice habits. Eventually the enjoyment of progressing to new ability levels should be the main motivator!
Provide a dedicated time and quiet space for your student to practice. It may be in the living room with TV and music turned off and siblings elsewhere; or in the student's own bedroom with door closed. Students will need a music stand, metronome and tuner unless you have a keyboard to tune to; also a CD player or MP3 player for some method books; see above under Accessories. Piano students should be allowed to practice without any distractions in the piano room.
Progress Expectations
I do not want to waste your student's time or mine. Each student will be given a minimum weekly practice time expectation. Students who consistently practice under their minimum time, or habitually do not complete weekly assignments to the best of their ability, may be placed on probation to determine if they are able to commit to the effort needed to make forward progress. Students who, in my and/or their parents' opinion, are not exerting sufficient individual effort to benefit from the investment being made in their musical education, may be asked to withdraw from lessons in order to provide access to other deserving students. If the student could benefit from a different teaching approach or teacher personality, referrals will be willingly provided. [Also see withdrawals below.]
Compensation
Contact me for current lesson rates. Half-hour lessons are suitable for up to Level 3 (early intermediate) students, after which time a longer lesson is recommended for advanced technique instruction. Lessons are to be paid for a month at a time in advance based on the number of lessons to be taken that month — payments are therefore due at the last lesson of each month for the following month. You are welcome to post-date a check to the first of the upcoming month when making your payment. This policy is in place to assure lesson payments have been made prior to each lesson in case of "unexcused absences." Scheduled lessons that are missed for any reasons other than personal illness, family trips or family emergencies are still payable at the full rate regardless whether a makeup lesson can be scheduled.  I request 24 hours' notice of a cancellation in order to credit you for the missed lesson time. Emergency cancellations sometimes happen and a credit may be issued on a case by case basis. Cancellations made by me will be credited to your next month's lessons. Students who decide to stop taking lessons in the middle of a month forfeit pre-paid lesson fees. Also see withdrawals below.
Other Fees: There is a $25 nonrefundable studio fee per lesson year for all students to cover administrative expenses (handouts, awards, supplies, accompanists, MTNA membership etc.). It also covers the costs for students to participate in my MTNA Music Achievement Awards program which sets a variety of goals to be met throughout the year. Students meeting 10 or more goals will receive special awards at year-end. For students in 4th grade (age 10) and under, my Elementary Incentives program includes earning points and rewards for practice and progress. There is an additional $5 supply fee per 12-month lesson period to participate; this is required for students in this age range unless the parent requests an opt-out. Annual fees are for any portion of one lesson-year (Sept. through Aug.) and are non-refundable. Students must bring their incentive charts and completed practice record to lessons in order to receive any points earned that week. Any other music or supplies procured for individual students are to be reimbursed at my cost.
Since the majority of violin performance pieces are arranged for piano accompaniment, students must have an accompanist for most performances. I am able to accompany most first-year students but beyond Level 2 the student must contract with an outside pianist. I can recommend and often make arrangements with selected accompanists but they will set their own fees. Typically the service fee for one rehearsal with accompanist plus the performance will be equal to the student's usual single lesson fee, depending on the length and difficulty of the piece(s). Students are welcome to procure their own accompanist such as a friend or family member, as long as the pianist's skill level is up to the demands of the music and they will not detract from the student's performance.
Withdrawals: Students who have not remitted lesson tuition by the 3rd lesson date in a month, or who miss 3 lessons in a row without advance notification, or who are no-notice no-shows for 4 lessons in the course of the lesson year (Sept.-June), will be withdrawn from my studio so their lesson time can be offered to students on the waiting list. Students will be reinstated on a trial basis only if ongoing monthly lessons are prepaid before the first lesson of the month. Tuition for no-show lessons prior to notification of withdrawal is still payable.
Inclement Weather: If the North Kitsap School District cancels classes due to weather conditions, lessons for that day will also be cancelled and you will be credited for the missed lesson. If school is released early or afternoon activities are cancelled, afternoon lessons will also be cancelled. You may still come out for your lesson if you wish, but please call ahead. If NK schools are on a two-hour delay, then afternoon lessons will be held but morning lessons may be cancelled at your discretion. If you are travelling from another part of the county and your schools have a different weather response than the NK district, please call about any changes in your plans. –> If lessons are held at YOUR house, I will contact you 2 hours ahead of your lesson time to check on approach roads. If I am not comfortable driving out but you want to come to your lessons at my home instead, you may do so; otherwise I'll credit you a lesson.
Performance Opportunities
I arrange for performance opportunities for my students several times a year. I hold a full studio recital at the end of the academic year. Special performances such as multi-studio recitals, adjudications and the popular Music Carnival and WSMTA Musicianship Exams are also available to interested and prepared students through the Kitsap Music Teacher's Association. Advanced students may also participate in the Seattle Young Artists Festival. I encourage students to join local youth or school orchestras for additional performance and ensemble experience. Check out the Bremerton Symphony Youth Orchestra, Bainbridge Island Youth Orchestra, or Homeschool Strings.
A variety of incentive programs are offered for student of all ages, from the "Treasure Chest" for elementary students, to Technique Tassels and MusiQUEST for all. More info here.
Early-Learner Readiness
Learning to play the violin involves multiple fine-motor skills, reading or pre-reading activities (I teach even young beginners the building blocks to reading music) and the ability to persevere even when encountering frustrations. The piano is a little easier to play at first — no out-of-tune notes or scratchy sounds — but still requires concentration and patience. So when parents ask me about music lessons for young children, ages 6 and below, there are a few things I look for before committing to teaching them.
First, I'm looking for a child who is independently motivated to learn to play the instrument — and able to focus during a 30-minute lesson period and for at least 10 minutes at a time when practicing. I do break up lessons with different activities for the youngest students to help "get the wiggles out," but have found that focus is the single biggest contributor to success at the younger ages.
Right-Left distinction (for hands, and directions on a keyboard) is required. Early reading and math skills are also necessary.
Reading skills needed:
Know alphabet letters A-G by sight and memory. Even better if child can say them backwards!
Understand "Decoding": that printed symbols on a page have meaning and give directions. For example: Letter "M" is called "Em", has the sound "Mmmm" and is used in words like "Mom."
Related to Decoding is Tracking: Following printed symbols left-to-right.
Math skills needed:
Counting to 10 and recognizing all digits 1-9.
Rudimentary addition and subtraction. 1+1=2; 3 – 2 = 1.
Understanding how cutting one object into several equal pieces (like a pizza) creates parts with names that are simple fractions: one-half, one-quarter or one-fourth etc.
A natural ear for music or innate desire to play their instrument is really important too. If a young child struggles or becomes frustrated with fine-motor activities or has a short attention span, they probably need to wait a year or two to begin lessons. In the meantime, encouragement to sing or pick out tunes on a keyboard is a great place to start!
Finally, parental involvement is crucial. For beginning students under age 8, I ask their parent or caregiver to observe their lesson and help them with their practice time each day. This is the only way to ensure that the correct playing position is maintained to avoid learning bad habits (see below). The parent may also need to help the child read their assignment notes and complete all practice tasks, track written music left-to-right at first, play notes in tune (on violin), etc. The students with the most involved parents are the ones who progress fastest!
Music Learning Objectives
To learn to play a musical instrument, students must be trained in three distinct but related functional areas: the MIND, the MUSCLES and the EARS.
MIND: Decoding printed notations and producing the sounds they indicate with the instrument uses the entire brain! Students are constantly striving to understand and follow rhythm patterns, relative note positions, finger placements and note naming conventions (collectively called "Music Theory"). More advanced students will learn to interpret complex music notation, including phrasing, dynamics, tempos, fingerings and (on violin) bowings. It's no secret that students with early and ongoing musical training tend to excel in math and language subject areas in school!
MUSCLES: Learning to hold and manipulate the violin and bow is not easy. Just as an athlete must constantly pay attention to the correct physical form and movements for their sport, repetition of correct positions and movements with the violin is the only way to train our MUSCLES to automatically provide the right responses every time. Any new or existing poor habits of posture, finger/hand/arm positions and playing technique must be adjusted so new pathways can be learned and correctly stored in "Muscle Memory."
Piano students learn the correct hand/arm/wrist/finger positions, how to incorporate pedaling with their fingering, and how to play the instrument without looking at where their fingers are landing (playing by touch).
EARS: A violinist must listen to every note he/she produces to see if each one is in tune, immediately adjusting the fingers as necessary. Creating a clear tone and dynamic variations with the bow can only be done by carefully listening, experimenting with the movement and pressure of the bow to achieve the tone one wishes to produce. The student must always be using their EARS to see if their fingers are in the right places, if the bow is pressing down too hard (or not hard enough), etc. Piano students have a little easier job — their notes are always in tune — but they still have to press the right key to hear the right note. The EARS convey messages like "too high!" or "too low!" or "that note wasn't held long enough!" to correct what is played for the next attempt.
In-Home Lessons for Homeschooled Siblings
For homeschooling families with two or more siblings taking violin or piano lessons, lessons-in-your-home are available by special arrangement if my schedule allows. Combined lessons must be 80 minutes or more in duration, scheduled weekdays between 9am and 2:30pm, and a travel fee will be charged. A suitable lesson space must be available in the home, furnished with two sturdy music stands (for violin) or piano/full keyboard (88 keys). I bring the rest of my supplies with me. Talk to me if you'd like to explore this option.
Occasional Lessons…
Some students for financial or other reasons may wish to take lessons less often than weekly. This can be true for adult students also. If there is room in my schedule I try to accommodate irregular lessons, especially for adults. I don't recommend less-than-weekly lessons for students under 12 UNLESS they are also involved in a strings class or orchestra program where they are getting some instruction on violin technique.
Students on an irregular lesson schedule must be prepared to change their lesson time if a weekly student desires their time slot. Youth students on an irregular schedule are not eligible to participate in studio awards programs and probably will not be preparing for studio solo performance events. But, I can help students with their orchestra music and give additional technical help that they may not be able to get in a group class. Contact me if you want to explore these options.
Caring For Your Violin
Violin tuning: The lowest note is the G below middle C. Then D (just above middle C), then A above middle C. Highest note is E, one octave and two notes above middle C. These notes are each the interval of a "fifth" apart. A pitch pipe or electronic tuner is necessary if you don't have a keyboard to check.
Keep fingernails trimmed short, even with or below the fleshy tip of your finger. This is a must, especially for the left hand!
Don't touch the bow hair (horsehair). Oils from your skin will transfer to it and keep it from doing its job–grabbing onto your strings.
Do loosen the bow hair anytime you're going to stop playing for 30 minutes or more. This keeps your bow stick from losing its "spring". Twist the metal screw at the bottom of the bow towards you (with screw on the right) a few turns until hair is loose and sags towards the bow stick. To tighten: turn the screw the other way until bow hair is firmly away from the bow stick, but not so tight that the stick is completely straight. There should be a little "give" in the bow stick when the hair is pressed against a string.
Don't loosen the strings between practice sessions. If you do, (besides having to re-tune your violin next time you play it,) the bridge will come off and the internal sound post may fall out of place. The sound post can only be reset by a professional with the right tool.
Rosin the bow about once or twice a week when practice sessions are brief; too much and you'll get a lot of rosin dust on your instrument. To raise the dust,

scratch up

the rosin with fine sandpaper or a key or other sharp object, especially if it is a new cake or very smooth (not dusty).
Use a soft cloth to wipe rosin dust off your violin and the strings before it gets a chance to build up.
Put your violin away in its case when you're not playing it. Protect it from moisture and extreme temperatures. Be aware that sudden changes in temperature (carrying the case outside or in a cold car, then back indoors) will usually cause the strings to go out of tune. Always lay your instrument gently on its back on a flat surface when putting it down briefly.
Make sure the bow is secured in its place within the violin case before closing the case, or it will fall on the violin and scratch it. Remove or secure any other loose objects in the case before closing.