Last spring when I bought a new violin, I needed a new case to put it in too. I love the looks, protection and accessories provided by high-end cases (BAM, Musafia) but NOT the price tags! On the other hand, I have plenty of experience with cheap cases with hardware that breaks (handles, bow spinners, locks, zippers, feet) and linings that tear. I also don't want to lug around a case that weighs more than 6.5 pounds EMPTY.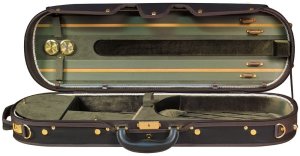 I spent a lot of time researching cases to find the one I ended up buying. The case line is called Baker Street (hmmm?) and I got the BK-4030 model. Here's a photo; click to see it on Amazon
. Now that I've owned this case for 6 months, I think I can recommend it as a good compromise between price, features and protection. It looks great and is heavy enough to be sturdy but light enough to be easy to carry. It has rounded corners for a better fit in closets, cars and airline storage bins. Inside, the violin is held snugly and angled to provide maximum internal storage space with two large accessory compartments. The lovely olive green lining color sets off my "blonde" violin and there are other luxury-looking touches like woodgrain bow spinners and a silk rope trim, available at the same price as many plainer-looking cases.
Elementary, my dear Dr. Watson! (Did I mention it looks great?)