Coaching and Conducting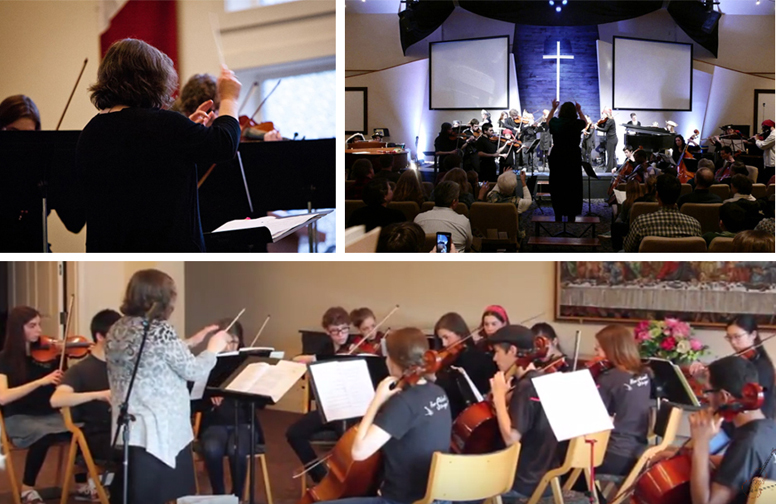 Developed through lifelong experience as an orchestral and chamber musician and ten years as a church choir director, my conducting and coaching capabilities have been in increasing demand. Currently I am an occasional coach for a community orchestra's upper string sections, the teacher and conductor of an advanced strings ensemble for homeschooled students, and music director for the Bainbridge Island Youth Orchestra's Debut Orchestra.
As my schedule allows, I am available as a sectional coach or director for youth and adult string ensembles.
Reviews:
Jane exceeds expectations by coaching and leading amateur musicians in reaching a level of proficiency necessary to perform works challenging to many professionals. Jane's performance ability and in-depth knowledge results in musicians understanding goals in musical technique. Patience provides a hedge against frustration in the development of musician's skills, a quality that Jane demonstrates regularly. These two qualities have little value without the passion to drive musicians and the music forward. Jane has come to our rescue on numerous occasions, coaching our string players in becoming performance ready.
~General Manager, Poulsbo Community Orchestra
Jane has been a coach for the Poulsbo Community Orchestra string section on numerous occasions, which involved thorough knowledge of all pieces, technical expertise, and conducting skills. Due to her excellent teaching and fun personality, she was frequently requested by the violin and viola sections. After each sectional the strings had noticeable improvement in intonation, technique, style, and ensemble resulting in more confidence and sound from even the least proficient players. The results proved that Jane is highly capable of teaching string players at all levels.
~Artistic Director, Poulsbo Community Orchestra
Jane has shown herself to be a gifted teacher and an inspiration to her students as she taught the Home School Strings Advanced Class. She selected repertoire for the class, perfected the pieces, and performed them in concerts. She also spent time teaching technique. She selected a variety of music appealing to many musical tastes, and it was always executed very well. I have also observed Jane as a private violin teacher and have been impressed with her ability to inspire her students to excellence.
~Director, Kitsap Home School Strings