Students of all ages enjoy the satisfaction that comes from setting and reaching goals. For younger students especially, incentive programs help focus their attention on the most important parts of their learning. Incentives also create more well-rounded musicians by rewarding outside-the-box experiences. Technique Tassels and MusiQUEST Trophies are two of my most popular studio incentives.
Technique Tassels: marking advancement milestones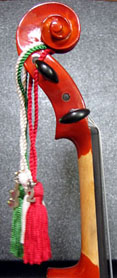 Violin students will work to complete the requirements for each of the 11 levels of technical and musical proficiency set by the American String Teacher's Association. Piano students are rewarded for finishing sequential method books. When each level is completed, the student is awarded a colored tassel, similar to martial arts "belts." Here's a brief description of skills at each level (for string players) and assigned tassel colors:
Foundation/White: correct violin and bow holds, developing intonation and rhythm
Level 1/Green: use of 4 fingers and 4 strings, low 2nd finger notes
Level 2/Red: more advanced bowings, dynamics, all 1st position notes (flats/sharps)
Level 3/Blue: introducing shifting into 3rd position, and vibrato
Level 4/Yellow: 3rd position playing, some double stops, more advanced bowing techniques
Level 5/Teal: more extended shifting, double-stop scales. This is the last level at which I will teach students who are not interested to progress through classical repertoire milestones.
Level 6/Purple: playing in upper positions, mixed bowings, faster double-stop passages.   Level 6 Repertoire Selections
Level 7/Black: extended fast passages, accuracy of pitch and rhythm, complex string crossings.  Level 7 Repertoire Selections
Levels 8-10 (Bronze – Silver – Gold): increased bowing agility, power & tone with extensions of double-stops and vibrato; other advanced techniques.
Students who plan to complete all 10 Levels must choose repertoire from Levels 8, 9 and 10 to meet the following criteria by the end of Level 10:
1 Bach Solo Sonata or Partita Movement – fast tempo;
1 Bach Solo Sonata or Partita Movement – slower tempo with polyphonic double-stops;
1 movement (minimum) from Mozart Violin Concerto 3, 4 or 5;
1 substantial selection or 2 shorter pieces from the Impressionist or Contemporary periods;
1 movement (minimum) from a Sonata for violin and piano;
an Orchestral Excerpt commonly used as an audition piece from a provided list.
Level 8 Repertoire Selections
Level 9 Repertoire Selections
Level 10 Repertoire Selections
MusiQUEST: 9 months, 10+ goals, 1 trophy
Inspired by MTNA's Music Achievement Awards program, MusiQUEST is my annual incentive program that runs from September to May. Students may choose from a long list of activities and learning experiences to complete ten goals by Memorial Day. There is a different theme each year, and a personalized trophy is presented to each student who completes their QUEST. Past themes have been Out of This World, Dive In!, Super Sleuths, Chess/Alice in Wonderland, Around the World and more. 2017-2018's theme is "National Treasures." Find out more in the studio!