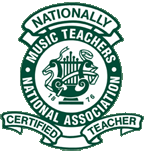 I have just received my NCTM designation from the Music Teachers National Association, the oldest association for music teachers in the U.S. (since 1876). What does this signify? I produced a 60+-page document along with over 4 hours of video to complete the Teacher Profile Projects required of applicants for the certification. I started working on the project in July and submitted all my materials in late February. It felt a lot like completing a thesis or requirements for a Master's Degree, and I learned a lot while I did it. Here are some of the areas I worked on:
Write your teaching philosophy in 600 words.
Analyze four teaching pieces from the violin repertoire (mid-intermediate level) and discuss your teaching approach to:  music history, style and interpretation, music theory, technical difficulties and how you would coach a student through them. Pieces were selected for me from the Baroque, Classical, Romantic and Contemporary periods.
Present your teaching by videotaping 3 sessions with a student at the beginning, middle and end of learning a new piece for performance, and provide a written self-evaluation of each video.  This project alone took about 3 months to complete. Many thanks to Kelsey S. for being my "subject," I couldn't have done it without her enthusiastic participation!
Attach documentation of student evaluations such as adjudications forms, recital videos and programs, progress reports etc.
Video record yourself performing 5-10 minutes of advanced repertoire. (I was most nervous about passing certification in this area. I submitted video of myself playing selections from the Bruch G minor Violin Concerto, Kreisler's Praeludium and Allegro, and a movement of the Franck Sonata for Violin and Piano.)
Describe and demonstrate how you foster a positive teaching environment through written descriptions and photos/video of your studio. Include reward systems, studio furnishings and artwork, computers and software, media equipment, web site, recordkeeping etc.
Discuss your studio business ethics and policies. Describe how you would respond to several ethically-challenging scenarios with students, families or colleagues. Provide a hypothetical annual budget.
Certification is reviewed and renewed annually by MTNA as long as I meet certain professional activity requirements.
Thanks to my whole family and especially my wonderful and supportive husband for their encouragement through the process. We did it!