About me and my teaching studio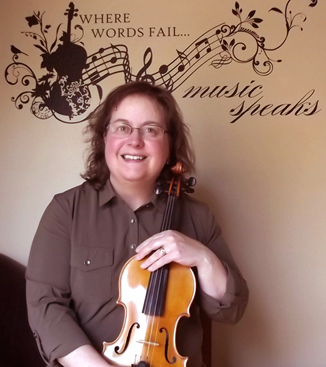 Greetings! I'm Jane Melin (rhymes with Green) and I teach violin and beginning piano lessons from my home near Poulsbo, easily accessible from the rest of Kitsap County via Highway 3.
I began my own classical violin studies at age 8 in Seattle and am an avid orchestral and chamber musician. I also love exploring the worlds of bluegrass, Celtic fiddle and jazz styles. I have been a first violinist in the Bremerton Symphony since 1997 and also played with the Seattle Philharmonic Orchestra, Washington University Symphony, and Seattle Youth Symphony. I directed an adult church choir for ten years and have made occasional presentations on the violin to elementary students. I learned piano as a secondary instrument and find it is an excellent tool to help string musicians better understand the structure of music. I try to communicate my enthusiasm for learning to my students!
My students participate in fun events each year like the Kitsap Young Musicians Festival, Kitsap Music Teachers Association Music Carnival, WSMTA Adjudications, Seattle Young Artists Festival, Christmas carol ensembles, studio parties and WSMTA Musicianship Exams. I encourage my students to prepare to join local ensembles like school and community orchestras for maximum application and enjoyment of the skills they attain in private lessons.
Continuously improving my skills as a teacher is important to me. I pursued a rigorous teaching certification through Music Teachers National Association; attended a professional string teachers' course under noted pedagogue Mimi Zweig at Indiana University (Suzuki method synthesis); have been trained in the O'Connor Violin Method; and am very active in the Kitsap MTA (Vice President; Technology Chair) and Washington State MTA (Strings Musicianship Exams Editor) which focus on professional development and peer support. I have served as substitute concertmaster for the Bremerton Symphony; sectional coach for Bremerton Youth Symphony and Poulsbo Community Orchestra; advanced ensemble teacher for Kitsap Home School Strings; and Debut Orchestra director for the Bainbridge Island Youth Orchestra.
I invite you to browse my web site for more information; start at the About page. Please contact me if you would like more information about my teaching schedule, rates and methods at the email address above.
Give your child or yourself the gift of a life-long love of music by learning to play the violin or piano! I am looking forward to sharing the adventure with you.